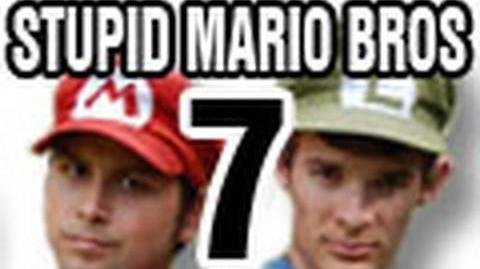 "A Band that is better than the Jonas Brothers!" is the 7th episode of the first season of Stupid Mario Brothers and the 7th episode overall.
Description
Edit
The Mario Brothers and the Wario Brothers put aside their differences and start a rock band.
Mario and Luigi decide to start a rock band and accept Wario and Waluigi as members. They produce a commercial showcasing their musical and choreographic talents.
Mario and Luigi ride their go-kart up to the mailbox and get another letter from King Bowser. After reading another plea for them to return and having a brief discussion about eating Goombas, the brothers decide to form a rock band.
Soon, the first audition begins and, surprisingly, it turns out to be Wario. However, it seems that Mario and Luigi do not care and begin to interview him for a spot in the band. Wario tells them he plays guitar, loves people, and rides a motorcycle. The Mario Brothers accept him into the band.
The next audition is Ash Ketchum, who walks awkwardly into the room. Ash plays the Pokeflute and has a terrible audition. Mario and Luigi decide he shouldn't be in the band.
After many failed auditions, the Mario Brothers are feeling hopeless about finding a final member. Mario tells audition 133 to "impress him in the next 10 seconds or get the hell out". However, audition 133 turns out to be Waluigi, who tells Mario and Luigi he plays the keyboard, gets along well with people, doesn't pee in the sink, gets to rehearsal on time, doesn't play the Pokeflute, and hates The Golden Compass. Mario and Luigi are impressed by this resume and decide to make him the band's 4th and final member.
With auditions over, Johnny Mushroom and the Kingdoms is born. The gang quickly begins rehearsal at Mario's house, but it turns out that they sound terrible. After playing for a few seconds, Mario suggests they "[...]write some better songs[...]".
After a while, a commercial for their album The Best of Johnny Mushroom and the Kingdoms is released, the commercial showcasing several of their songs. They become music celebrities for a while, but during a meeting, Mario decides to leave the band out of boredom. The other members subsequently decide to do the same and the band breaks up.
Appearances
Edit
Characters
Edit
Locations
Edit
Production Notes
Edit
Series Continuity
Edit
Character Revelations
Edit
Soundtrack
Edit
Coming soon!
Coming soon!
External links
Edit