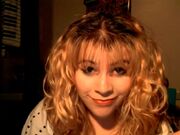 Christine Alvarez (born in the mid 1980s) is an American actress in Stupid Mario Brothers. She is Rich Alvarez's older sister.
Alvarez has played several roles in various Richalvarez videos, but has only played two roles in Stupid Mario Brothers and appeared in "San Francisco Adventure."
Alvarez currently plays the roles of:
Sometimes, Alvarez posts videos on her channel wenryapart.
Ad blocker interference detected!
Wikia is a free-to-use site that makes money from advertising. We have a modified experience for viewers using ad blockers

Wikia is not accessible if you've made further modifications. Remove the custom ad blocker rule(s) and the page will load as expected.