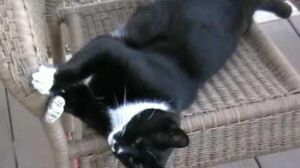 "Howard 2004-2008" is a video on Richalvarez.
Description
Edit
A Tribute my cat Howard, who died yesterday November 6th 2008.
I will miss him.
Rich Alvarez announces the death of his cat Howard.
The video is made up of a series of short clips of Howard the cat resting and playing on a chair, standing on top and beside a pile of rock, and walking around on grass.
The video ends with the message:
Howard "The Cat" Alvarez.
2004-2008
"The Happiest Cat That Ever Lived"
Appearances
Edit
Characters
Edit
Locations
Edit
Production Notes
Edit
Character Revelations
Edit
Soundtrack
Edit
External links
Edit
Ad blocker interference detected!
Wikia is a free-to-use site that makes money from advertising. We have a modified experience for viewers using ad blockers

Wikia is not accessible if you've made further modifications. Remove the custom ad blocker rule(s) and the page will load as expected.