It came from Ash's Toilet
Talk

0
434pages on
this wiki
Ash: "I'm gonna need a plumber stat! ...you guys "plumb", right?"
Luigi: "I don't know about that, we haven't plumbed anything since 1983."
— Ash remembers Mario and Luigi are plumbers.
"It came from Ash's Toilet" is the eighth episode of Stupid Mario Brothers, and, by association, the eighth episode of Season One. It was released on February 7, 2008.
This episode was removed from YouTube due to copyright claims by Sony Entertainment Music for a time. It was later reposted in its original format.
Description
Edit
Mario and Luigi plunge a toilet for the first time in years.
Ash gets a letter from Pikachu telling him Wobuffet got stuck in the toilet. He asks Mario and Luigi to plunge it. They dance through a grocery store and arrive at Ash's house. Mario and Luigi plunge Wobuffet, and it gets stuck to Mario's face. Luigi eventually gets it off, and they decide to no longer be plumbers and get real jobs.
Mario and Luigi are hanging out by the mailbox when Ash walks by and takes a letter sent for him out of the mailbox. Ash reads the letter, which is from his Pokemon, Pikachu. Pikachu asks Ash to come back quickly, as an emergency has happened. Charmander has set fire to the couch, Jigglypuff has blown up in the microwave, Snorlax has killed Brock by using a Body Slam on him and, most notably, Wobbuffet has gotten stuck in the toilet. Ash realizes he's going to need to find a plumber quickly to deal with this problem. He turns around and looks at the Mario Brothers, then asks if they are still plumbers. Luigi isn't sure if they are right for the job, but after Ash bribes them with food, Mario quickly agrees to help and makes Luigi come along.Then for a odd reason Mario, Luigi and Ash start to dance to Let's Groove. Ash then states that he has no idea why they are dancing and then they all go to Ash's house.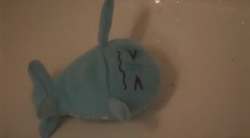 At Ash's house,
Ash brings Mario and Luigi inside his house, leads them to the Bathroom, and hopes that Mario and Luigi can get the toilet unclogged. Mario and Luigi ponder for a moment on how to unclog the toilet, as it seems they have forgotten how. They then began trying to remember what to use. Luigi thought that you use a hammer, Mario thought you use a wrench, and then Luigi thought you use a Gamecube controller. After obtaining a plunger from Ash, they attempt to unclog the toilet.
Mario eventually unclogs the toilet, causing Wobbuffet to fly out onto Mario's face. Mario screams into his gloves as he tries to get the Wobbuffet off of him, while Luigi puts the plunger on Mario's face and starts to plunge it. Eventually, Luigi plunges Wobbuffet off of Mario's face, and it lands in the bathtub. Mario is furious and says that he's had enough. He says to Luigi that they are no longer plumbers, and that they are going out to get real jobs. The Mario Brothers walk out of the bathroom and ask Ash where the pizza he promised them is. Ash admits that he lied to them about the pizza, and Mario is furious. The Mario Brothers return home and prepare for their quest to find new jobs.
Appearances
Edit
Characters
Edit
Locations
Edit
Production Notes
Edit
Character Revelations
Edit
Series Continuity
Edit