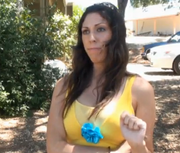 Jacqueline Alvarez (nee Thompson) is a prominent member of RMA Productions and a former member of Randumb Productions. She, along with several other people from Randumb Productions, appeared in Stupid Mario Brothers and played a minor role in Stupid Mario Brothers: The Movie, as Princess Daisy. She briefly reprised this role in Operation: Blind Storm. She is Dane Cook's ex-girlfriend and is now Rich Alvarez's wife.
Due to the RandumbProd and Richalvarez channels splitting, Jackie did not appear in any other Stupid Mario Brothers episodes after Operation: Blind Storm, and did not appear in any Richalvarez media for several years.
She later rejoined the Richalvarez channel with an appearance on YouTube News in 2014, in charge of celebrity gossip. She and Richard have since begun a new cooking show every Wednesday on the Rich Alvarez channel called "Let's Cook" 
Some people think that Jackie has another role that is a girl with a green shirt in Episode 22 "Who is Scott Masterson? The character however shares no resemblance to her.
Her channel can be seen here
Jackie's favorite food is macaroni and cheese.
Jackie enjoys perler art, a real and respectable art form.
Jackie and Richie dated 3 times in the past 10 years and now are married.