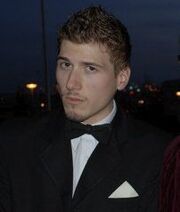 Julian Petruzzelli (born August 28, 1989) is an actor in Stupid Mario Brothers, as well as This Is Where The Magic Happens and several other film projects.
He was born in San Jose, California.
After the split of Richalvarez and RandumbProd, he officially separated from RandumbProd and fully joined Richalvarez.
He has played the roles of:
While filming an episode of Smashing Stuff, Petruzzelli was interrupted by Mario and Luigi trying to escape an evil lawnmower. Petruzzelli was going to smash an iPhone before, but he decided to smash the lawnmower instead due to it being the cause of his show being interrupted. ("Act I Part 4")
Ad blocker interference detected!
Wikia is a free-to-use site that makes money from advertising. We have a modified experience for viewers using ad blockers

Wikia is not accessible if you've made further modifications. Remove the custom ad blocker rule(s) and the page will load as expected.