Ness' house is the residence of Ness and Lucas. Its only appearance is in "Link's Letter is full of Holes!".
In the episode, Ness leaves his home to help Mario, Luigi, and Link.
Background
Edit
Coming soon!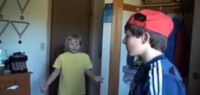 The house briefly appears once where Ness and Lucas are talking about the former leaving as Ness packs his belongings and bat. Despite Lucas's objections, Ness leaves the house and proceeds to find Mario and Luigi.
Coming soon!