Stupid Mario Brothers
Talk

0
434pages on
this wiki
Stupid Mario Brothers (shortened as Stupid Mario Bros. or simply abbreviated as SMB) is an Internet-based web series Live-Action on YouTube, created by Richard Michael Alvarez. It tells the story of the show's main characters Mario, Luigi, Wario, and Waluigi and their wild adventures in the Real World. Along the way, they meet a variety of allies and enemies that all play their part in changing the Real World as they know it. The first episode aired on December 29, 2007, with great success. The show ended on June 5, 2012, with the conclusion of Season Five.
While it has officially ended, cast members Austin Stevenson and Daen Olson attempted to create an official spin-off series, named Stupid Pokemon Friends. However, conflict between the RMA cast and the cast of Stupid Pokemon Friends cast resulted in the series being cancelled after the first episode was released. A spiritual sequel to Stupid Mario Bros titled That Stupid Video Game Show was released on January 17 2013.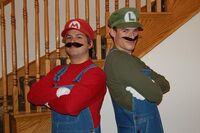 The Mario and Luigi costumes were originally made in 2006 as Halloween costumes by Rich Alvarez and Chris Muller. They were used again later in November of that year, while the two were in line for the launch of the Nintendo Wii.
Later, Muller thought of the idea of using the costumes in a video series, but Alvarez turned it down because he thought the concept was too stupid. Muller and Matt Provencal later approached Alvarez again during lunch at their high school, calling the concept Super Teenage Mario Brothers; Alvarez once again turned it down again, still seeing it as a stupid concept. Eventually, towards the end of 2007, he agreed on filming Super Teenage Mario Brothers because they did not have anything else to do. While editing the video, Alvarez decided that since the show was so stupid and random, he changed the name from Super Teenage Mario Brothers to Stupid Mario Brothers.
Reception
Edit
Rich Alvarez already predicted it would not gain RMA Studios a place in YouTube's top three most subscribed, and even though this turned out to be true, Stupid Mario Brothers is still a highly successful YouTube show, its first episode garnering over two million views as of June, 2012.
Subsequent Canon Specials
Edit
Spin-offs, Specials and Extras
Edit
Characters
Edit
As what they are doing as of the end of the series.
Protagonists
Edit
Antagonists
Edit
Locations
Edit
Spiritual Sequel
Edit
A spiritual sequel titled That Stupid Video Game Show was released on January 17, 2013.
External Links
Edit