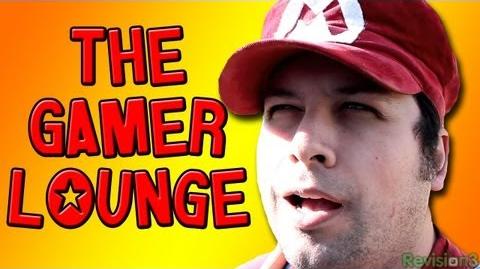 "The Gamer Lounge" is the 2nd episode of That Stupid Video Game Show.
Description
Edit
A Nintendo themed tribute to Spongebob and The Salty Spitoon.
Coming soon!
One day, Mario and Luigi enter the Gamer Lounge after showing off to the door guy who let them in. Wario shortly arrives, also wanting to enter. However, since the door guy doesn't think he is "tough" enough for the lounge (after Wario states that he played Civilization 2 for several days), he tells him to leave.
Afterwards, Wario finds a Gameboy with Pokémon Red in it. He decides to catch all the Pokémon in all the games. He works for several days playing all the generations of Pokémon games until he eventually manages to catch them all in his Pokédex.
He returns to the Gamer Lounge, telling of his feat to the door guy. He and, later, Mario are shocked that he has finally done it, becoming unconscious. Then Luigi exits the lounge to tell Wario that they are leaving now. Saddened, Wario leaves as well.
Appearances
Edit
Characters
Edit
Locations
Edit
Production Notes
Edit
Series Continuity
Edit
Coming soon!
Character Revelations
Edit
Coming soon!
Soundtrack
Edit
Coming soon!
Coming soon!
Coming soon!
External links
Edit
Ad blocker interference detected!
Wikia is a free-to-use site that makes money from advertising. We have a modified experience for viewers using ad blockers

Wikia is not accessible if you've made further modifications. Remove the custom ad blocker rule(s) and the page will load as expected.